Every year we face the same dilemma…
What to put on our Christmas wishlist? What to gift our loved ones?
Brands are constantly competing with each other in terms of creativity and are overflowing with suggestions! The choice is HARD!
If you are approaching the holiday season with excitement with a little bit of a cold sweat and questioning "What should I choose?!", let yourself be inspired by some of the bicom team members!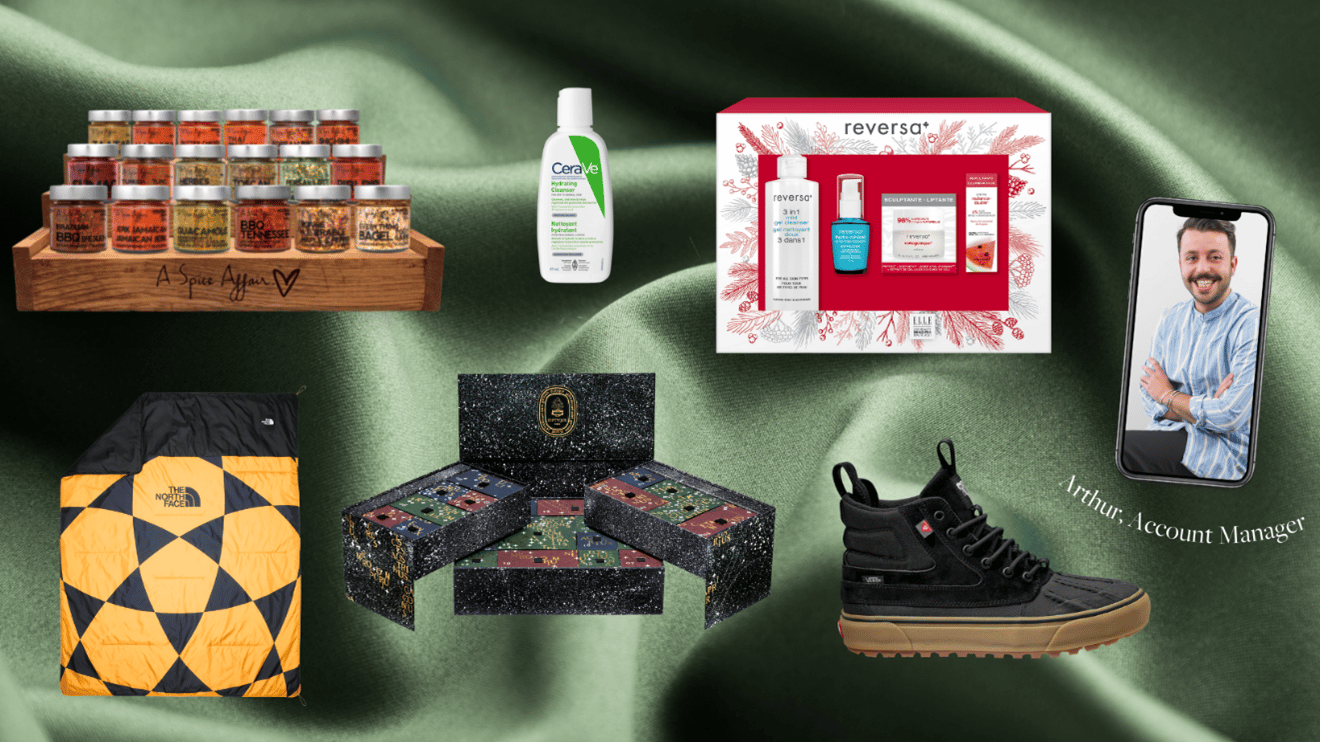 If you don't know Arthur, you should know that even though he lives in the city, he aspires to be a woodsman…with a refined twist! It's a safe bet that you'll meet him in a cottage on weekends, and it's even become a real running gag at the agency!  In his 2022 wishlist are:
– The Spice Affair World Tour 018 Spice Set ($199CAD) (this gluten-allergic epicurean loves to cook for his loved ones and discover new flavors to liven up his dishes!)
– The North Face Wawona blanket ($99.99CAD) and Vans SK8-HI Del Pato shoes ($175CAD) would be the perfect match for his getaways in the woods!
– The Diptyque Advent Calendar ($648CAD)! Let's face it, it's one of his dreams! Didn't he bring all his Diptyque candles from Paris when he moved to Montreal? Of course he did!
– On the Christmas stocking stuffer side, he recommends his favorite product, the CeraVe Hydrating Facial Cleanser ($5.49CAD). Its 87 ml size is totally suitable for the game!
– Being Arthur's favorite Quebec skincare brand, Reversa's favorites box ($68.95CAD) would be the perfect gift! They will be online soon, but the visuals are already available here!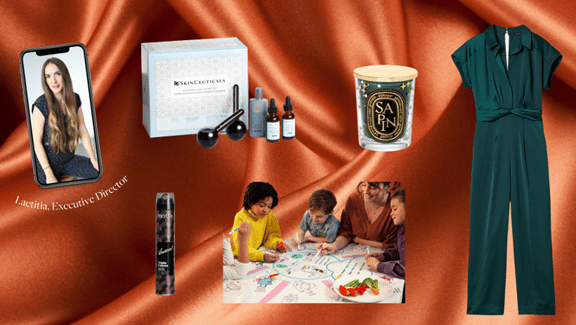 You probably know that Laetitia is our team fashionista (we all miss her #FashionWednesday looks! They'll be back as soon as we get our mirror, it's a promise!) and that she loves beauty products. She is also the DIY queen of the team and a mom who loves spending time with her kids! On her Christmas list:
– A gift box from SkinCeuticals! We almost suspect that she drinks bottles of CE Ferulic because she loves the brand so much!
– For the fashionista that she is, this satin jumpsuit from RW&CO ($159.90 CAD) will be perfect for her many Christmas dinners!
– At her house, no TV, they do DIY and do it as a family! The Multilingual Coloring Tablecloths from Bimoo ($39.95 CAD) are a real go-to for her! And because she always has candles burning for a cozy atmosphere, the Sapin candle from Diptyque with its winter scent will delight her!
– Finally, the perfect addition to her Christmas stocking: Matrix Triple Freeze Hairspray ($21.50 CAD), which will help her long curls stay in place all day long!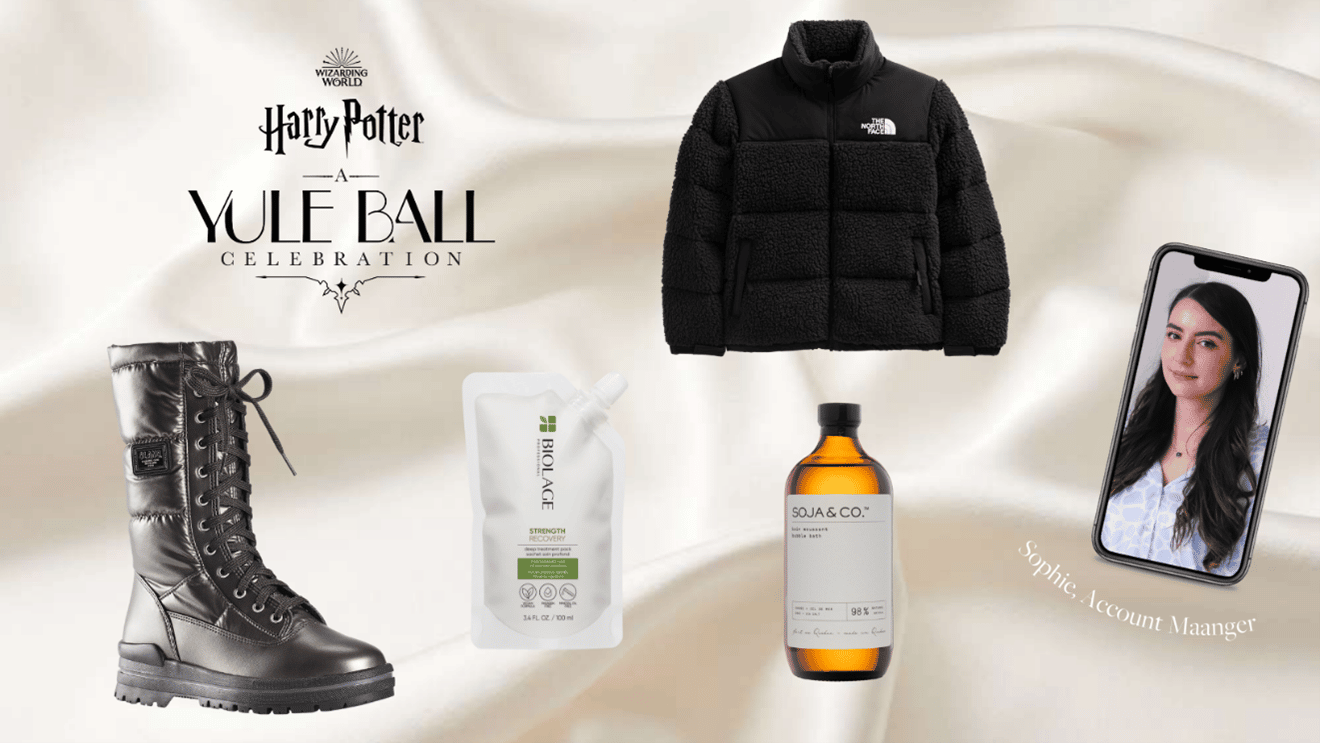 If we had to describe Sophie in one sentence, it would be: "A K-Pop fan that is ready to wait 8 hours in line in the cold to get the best possible concert seat, dressed in black from head to toe".  And yet, Sophie has a very bright personality! Her selection for the holidays?
– The North Face Nupste Sherpa unisex jacket ($429.99 CAD) on her back and Olang Glamour boots ($270 CAD) on her feet will be her must-haves to keep her warm and dry while waiting in front of the Bell Centre!
– Sophie is also a big fan (not to say THE ULTIMATE FAN!) of Harry Potter. We let you imagine her reaction to the announcement of the Harry Potter Grand Ball presented by Fever (from $71.50CAD)! It's very possible that she will attend every performance!
– Between 2 concerts and other activities, Sophie is also the queen of cocooning (hard Canadian winters for our little Frenchy)! Her favorites: SOJA&CO's Sage and Sea Salt Bubble Bath ($29CAD) and Biolage's Strength Recovery Treatment Pack ($34 CAD)!
A must try!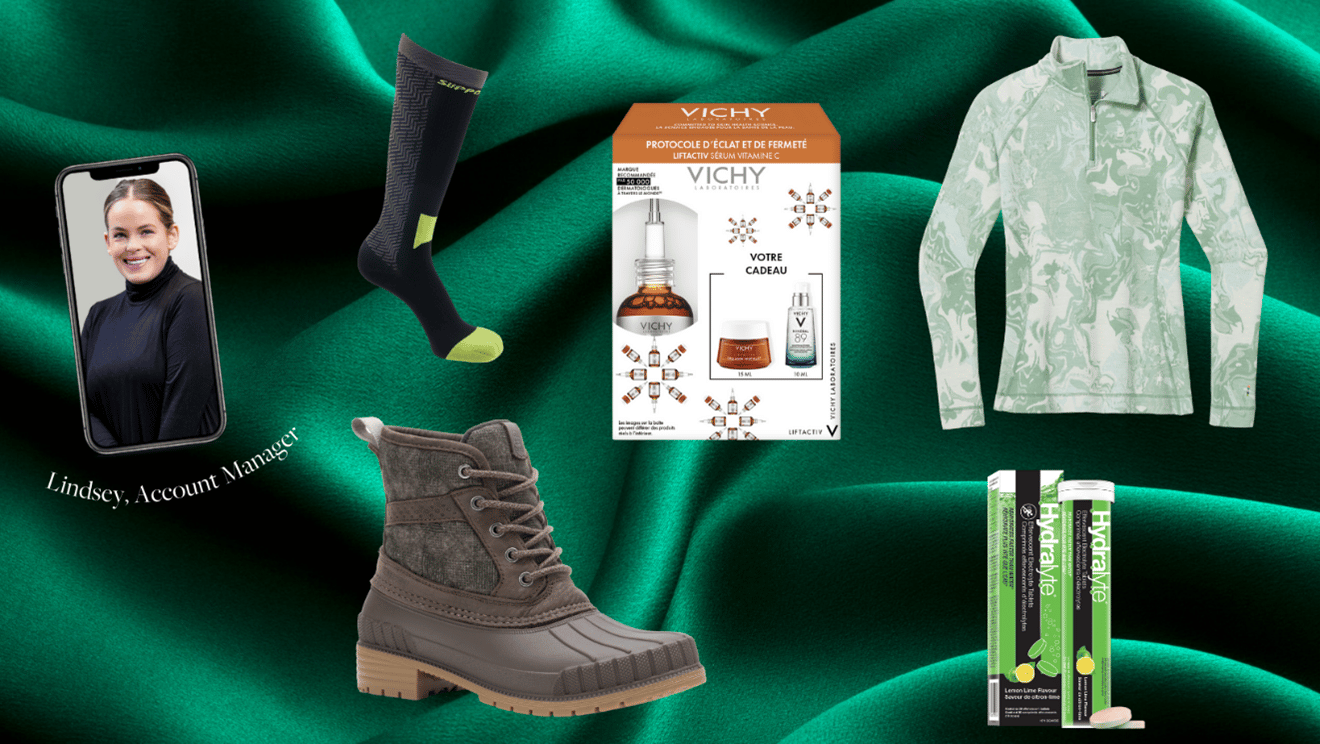 If you know Lindsey, you know the love she has for her dog Ruby. (Not to mention her coworkers who quite enjoy their new office mascot). She loooves to take her on multiple walks a day around the city, so what keeps her equipped for the outdoors? Check out her favourites list:
– Kamik's Sienna Mid 2 boots ($139,99 CAD) are made in Canada and will keep her feet dry and warm down to -20°C. Clearly her future best friends for her many winter activities, in which she will slip Supporo Sport support socks ($29.99 CAD).
– Lindsey's clothing style is versatile! As much as she likes to dress classy, she currently has her eyes on Smartwool's Merino 250 Baselayer ($150 CAD), perfect for her days outdoors or in the Toronto drafts!
– Her all-time favorite product? Vichy's Mineral 89! This Vichy gift set includes the Mineral 89, Liftactiv Vitamin C and LiftActiv Collagen Specialist cream and is sure to please her!
– Finally, a little gift that will be very useful to compensate for her sporty days…but also her lively evenings: Hydralyte's Lemon-Lime Sport Electrolyte tablets ($14.99 CAD) that will fit perfectly in her Christmas stocking!