Whether we celebrate or not, the Easter holidays, we will all enjoy a longer than usual weekend!
Should you go for "all the chocolate is for MEEE" or just relaxing with friends and family, our team put together a guide to help you make the most of it!
Long weekend and festive brunch ahead: what to wear?
Choosing your outfit can be a lot of fun or quickly become a real headache! We advise you to go with a safe value: an outfit in neutral tones with a bit of color, like this beautiful green trench coat from RW&CO.!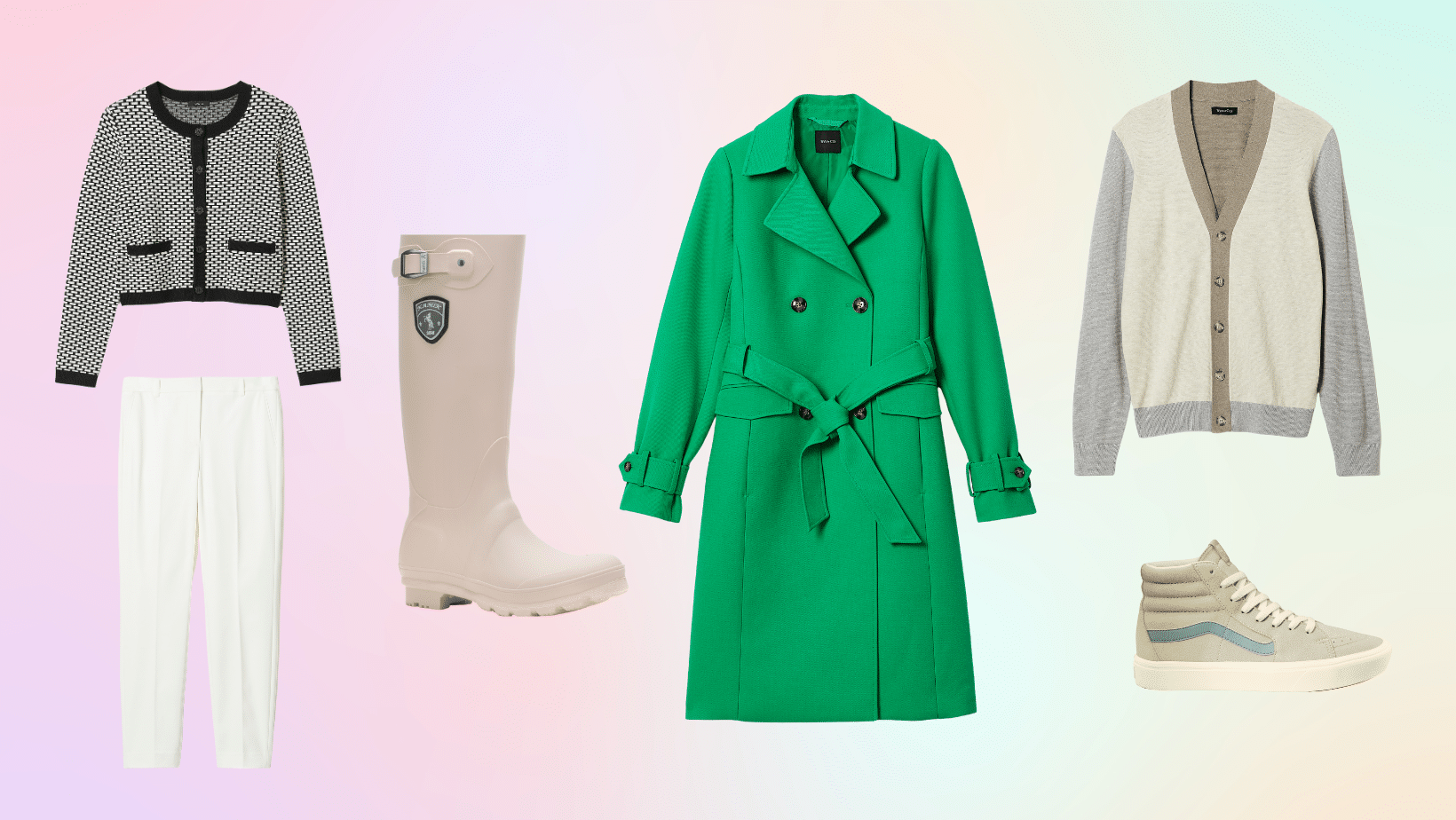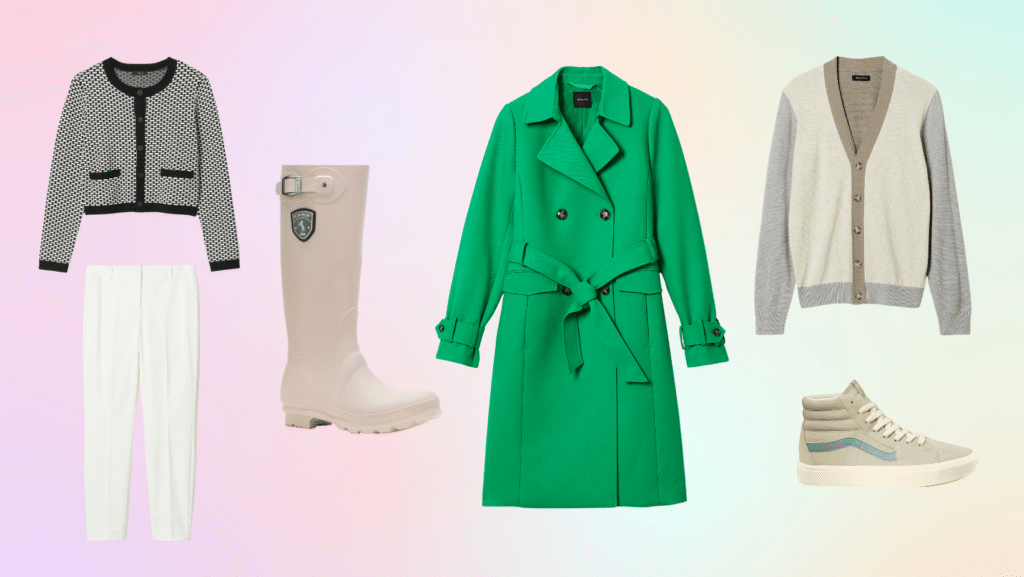 From top to bottom from left to right
RW&CO Jacquard Cropped Sweater Blazer – $99.90 / RW&CO High Density Ankle Slim Pant – $89.90 / Kamik JENNIFER Rain Boots – $89.99 / RW&CO Classic Twill Trench Coat –  $219.90 / RW&CO V Neck Colourblock Cardigan – $99.90 / Vans Growing Everyday Comfycush Sk8 Hi Shoe – $20
Pamper the person who invited you!
A host gift is never expected, but always appreciated! Whether it's to titillate the nostrils or the taste buds, we have the perfect gift for you. Here's a selection for all tastes and all budgets, which will undoubtedly please those who host you.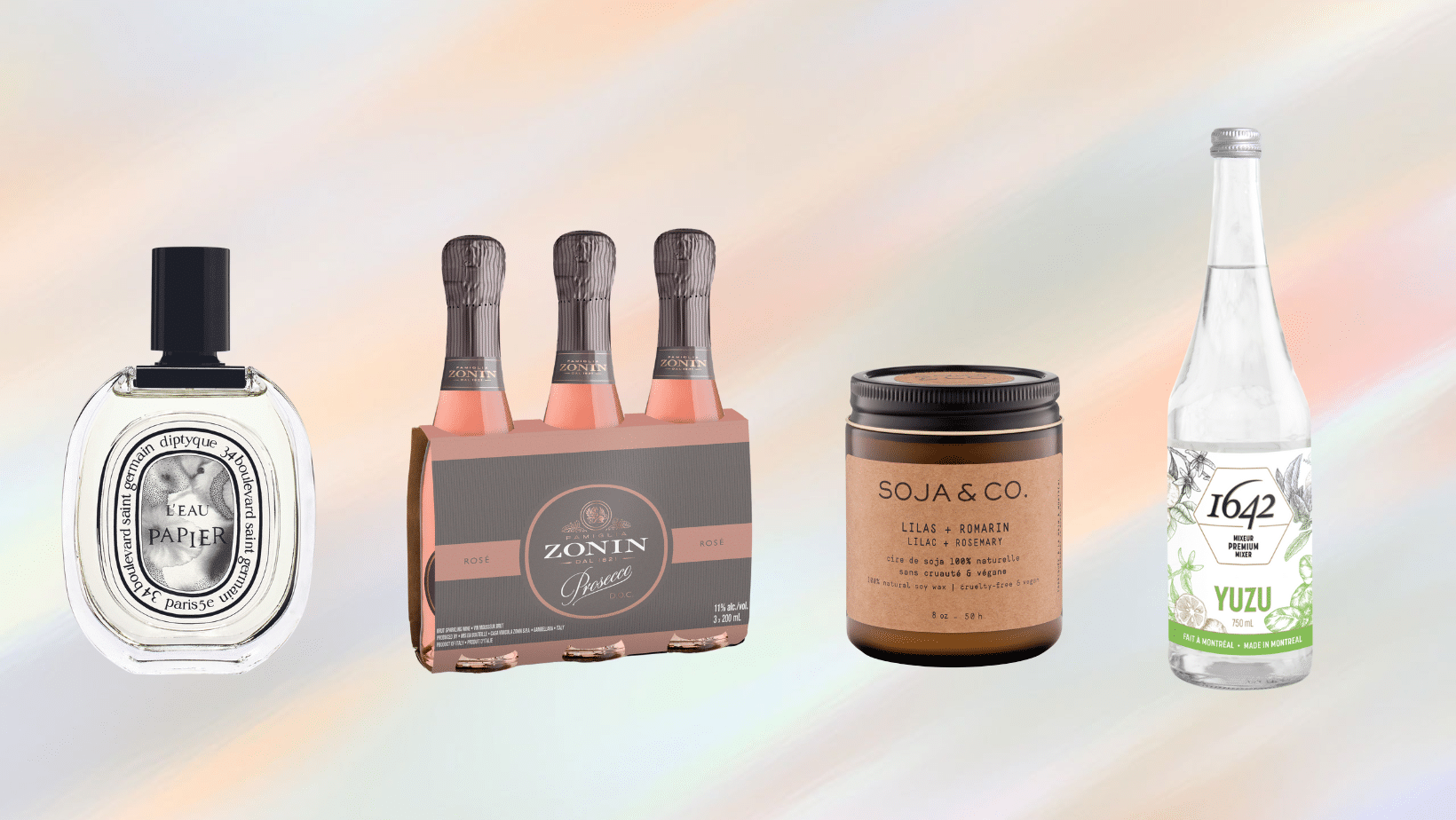 From left to right
Diptyque L'Eau Papier 50 ml – $169 / Zonin Prosecco Rosé 200 ml – $18.30 / SOJA&CO Candle Lilac + Rosemary 8oz. – $32 / 1642 Perrier Yuzu – $7.99
Ready for the Egg Hunt!
For many people, far from religious meanings, Easter remains the synonym of the traditional egg hunt (as for who lays them, the debate between the rabbit and the bells is still going on!). But if there's one thing you can't predict in Canada, it's the temperature outside on the day! The North Face jackets and coats are necessary for the winter/spring transition. One thing is sure: rain or shine, remember your sunscreen! We recommend Reversa's Urban Protection SPF 30, which will protect your skin from UV rays and environmental pollution!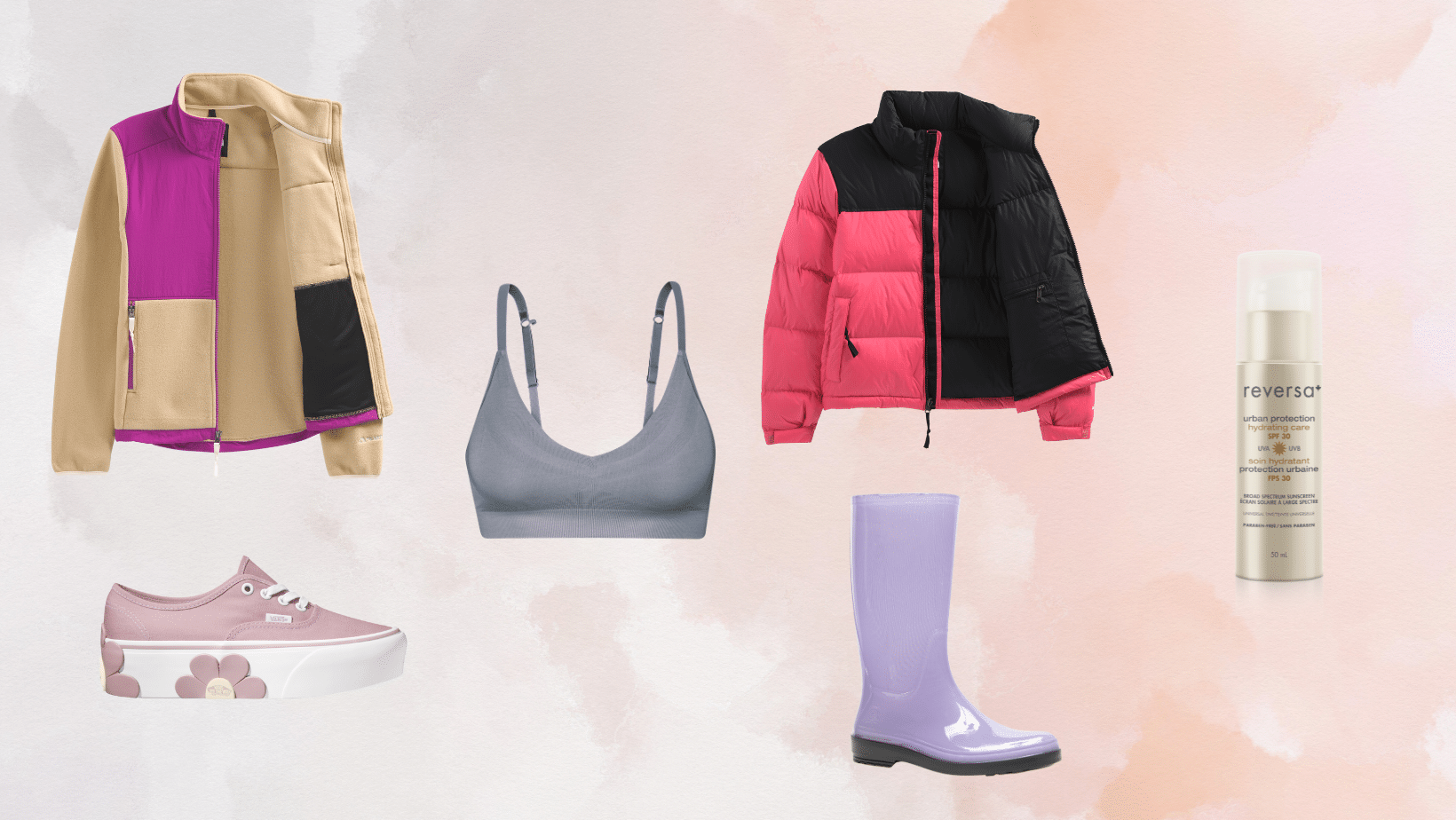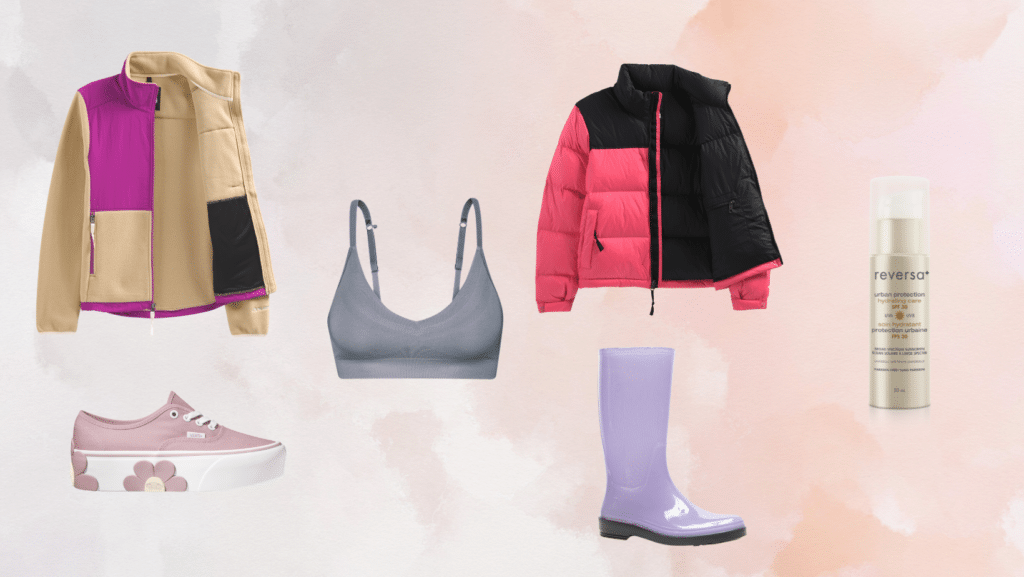 From top to bottom from left to right
The North Face Denali Jacket  – $229.99 / Vans Authentic Stackform Osf Shoe  – $95 / Wonderbra EcoPure Seamless Comfort Bra – $57 / The North Face 1996 Retro Nuptse Jacket – $399.99 / Kamik HEIDI 2 Rain Boots – $74.99 / Reversa Urban Protection Hydrating Care SPF 30 – $47
Cocooning session at home?
If, for you, extended weekend rhymes with cocooning, we have a few suggestions for you! What better way to start the day than with a bubble bath with sage and sea salt, maple herbal tea in hand, heated slippers on your feet, an aromatherapy mask on your eyes, and a designer air purifier for a clean and pleasant environment? Dive into a good novel or be carried away in endless TV series.

From top to bottom from left to right
Magic Bag Aromatherapy Mask  – $21.99 / Magic Bag Heatable Slippers  – $29.99 /
SOJA&CO Bubble Bath Sage + Sea Salt – $30 / Four O'Clock Maple Herbal Tea – $5.49 / Dupray Bloom Air Purifier  – $325
It's also the perfect time to use renewing and moisturizing products, such as Redken's leave-in treatment, which helps strengthen weakened hair bonds and prevent hair breakage; CeraVe's new Renewing Exfoliating Serum or Vichy's new LiftActiv Retinol Serum. Finally, a cocooning day is complete with a good face and hair mask!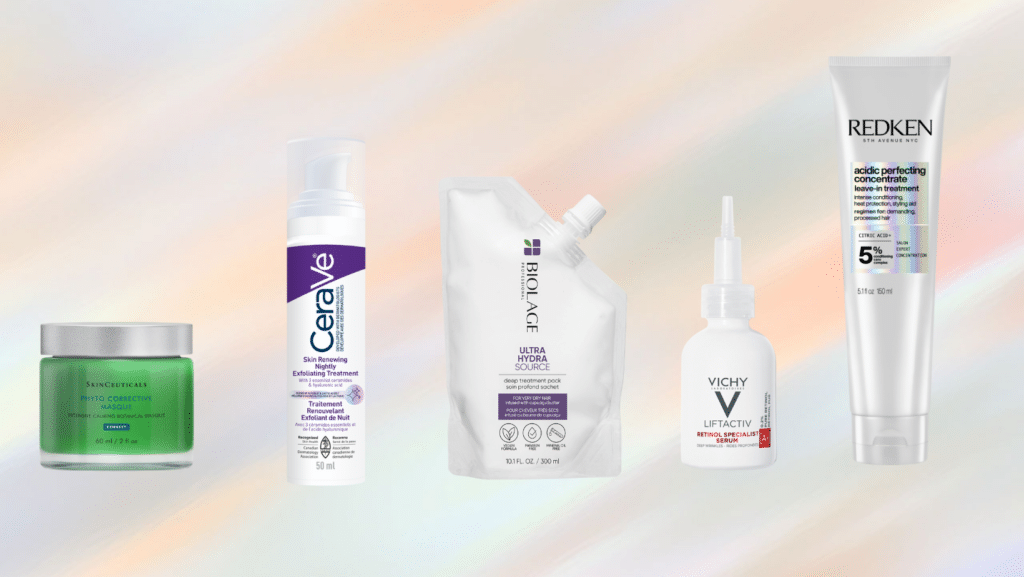 From left to right
SkinCeuticals Phyto Corrective Mask  – $86 / CeraVe Skin Renewing Nightly Exfoliant Treatment /
Biolage Ultra HydraSource Mask – $34 / Vichy LiftActiv Retinol Serum – $66.95 / Redken Acidic Perfecting Concentrate Leave-in Treatment  – $39
Our team wishes you a lovely long Easter weekend!