The essentials by bicom

Unless you live under a rock (or a gua sha or a roller-jade!), it's impossible for any self-respecting skincare addict to miss THE skincare trend that's creating the biggest buzz on social platforms, led by TikTok! Popularized by American dermatologist Whitney Bowe, this new evening routine promises a radiant complexion and refined skin texture…without the need to use tons of products or complex layering techniques!
What is Skin Cycling? Listen up!
(a trend that's gaining more followers by the minute!)
What is Skin Cycling?
The whole concept of this routine for a flawless skin is based on a cycle of 4 steps to be done in the evening, focusing each time on one key ingredient, and alternating between active nights and recovery nights.
In other words: we make the skin work, we give it a break, and we start again!
This technique allows the epidermis to better tolerate active ingredients by optimizing their benefits, without causing irritation or damaging the skin barrier.
So who is Skin Cycling for? The good news is that it's for everyone, especially for oily skin prone to blemishes and sometimes uncontrollable breakouts!
Fun fact: A little revenge on the winter 2022 trend, Slugging, which is not recommended for oily skin!
---
Simple and effective steps:

Step Zero: Cleaning!
Fans of double cleansing will appreciate it! For others, choose a gentle, non-abrasive cleanser!
Every night, start with a cleansing of the skin by choosing a formula adapted to your needs, it's still important!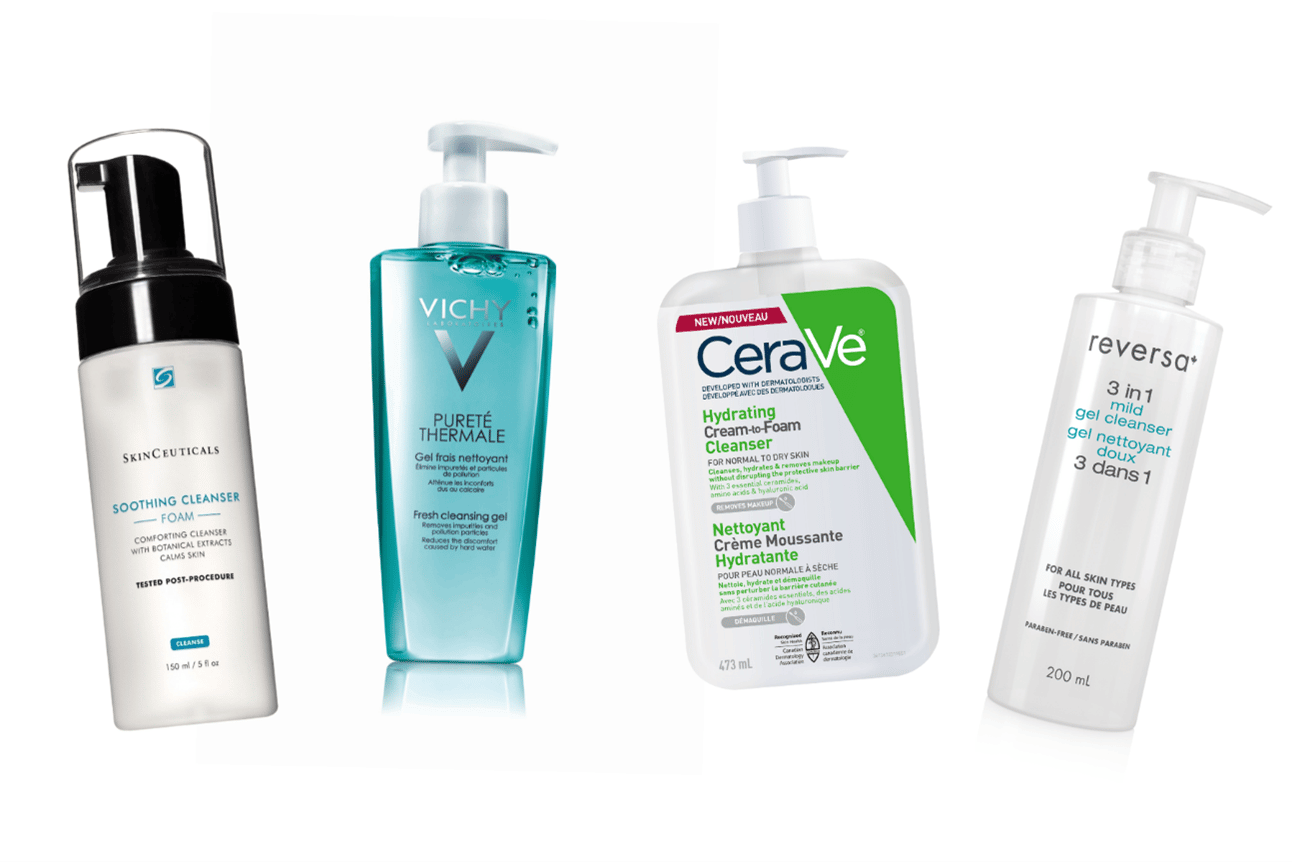 SkinCeuticals: Gentle Cleanser – $51,00 CAD
Vichy:  Pureté Thermale Fresh Cleansing Gel – $21,95 CAD
CeraVe: Hydrating Cream-to-Foam Cleanser – $15,99 à $20,99 CAD
Reversa: 3 in 1 Mild Gel Cleanser – $23,00 CAD
Night 1: We exfoliate
We bet on an enzymatic exfoliation with AHAs, BHAs, salicylic acid… (vs. a mechanical exfoliation, even if you like the contact of the small grains under your fingers!) to get rid of dead skin cells, and revive the radiance of your complexion. We then apply a moisturizing cream without active ingredients, and we choose a rich and nourishing one.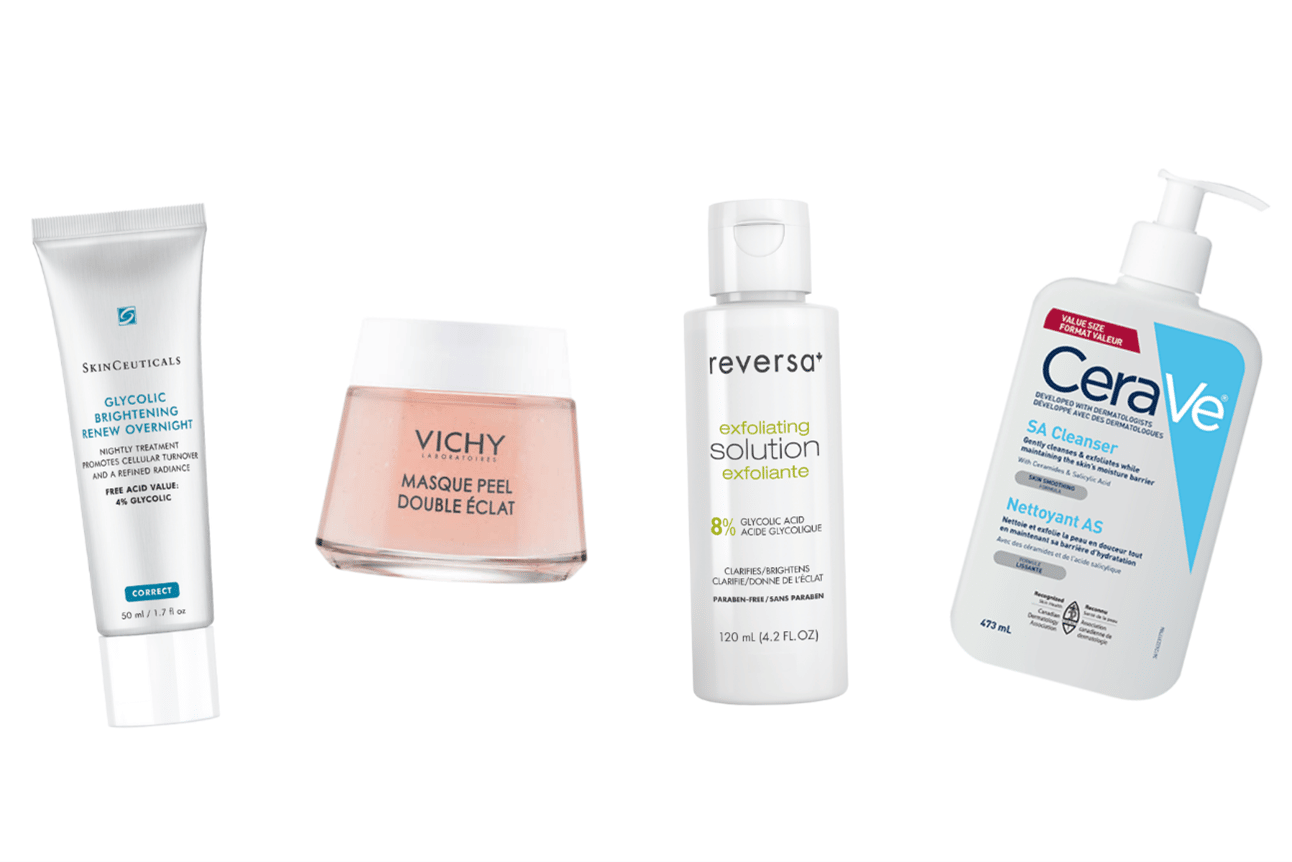 SkinCeuticals: Glycolic Brightening Renew Overnight – $112,00 CAD
Vichy: Double Glow Peel Mask– $34,95 CAD
Reversa: Exfoliating Solution – $37,00 CAD
CeraVe: Renewing SA Cleanser – $15,99 à 20,99 CAD
Our suggestions of moisturizing creams:
SkinCeuticals: Triple Lipid Restore 2:4:2 – $162,00 CAD
Vichy: Aqualia thermal Night Spa – $47,95 CAD
Reversa: Skin Smoothing Cream – $39,00 CAD
CeraVe: Moisturizing Cream – $23,44 à 26,64 CAD
Night 2: Retinol!
The second evening should be dedicated to the application of retinol, which will boost cell renewal and improve the texture of your skin. Don't forget to apply a moisturizing cream to soothe the skin, which can tend to be tight.
Here's a reminder: choose the right amount of retinol! If you have never used retinol before or if you have dry or sensitive skin, choose a low dosage. Once you have acquired a good tolerance, you can increase the dosage!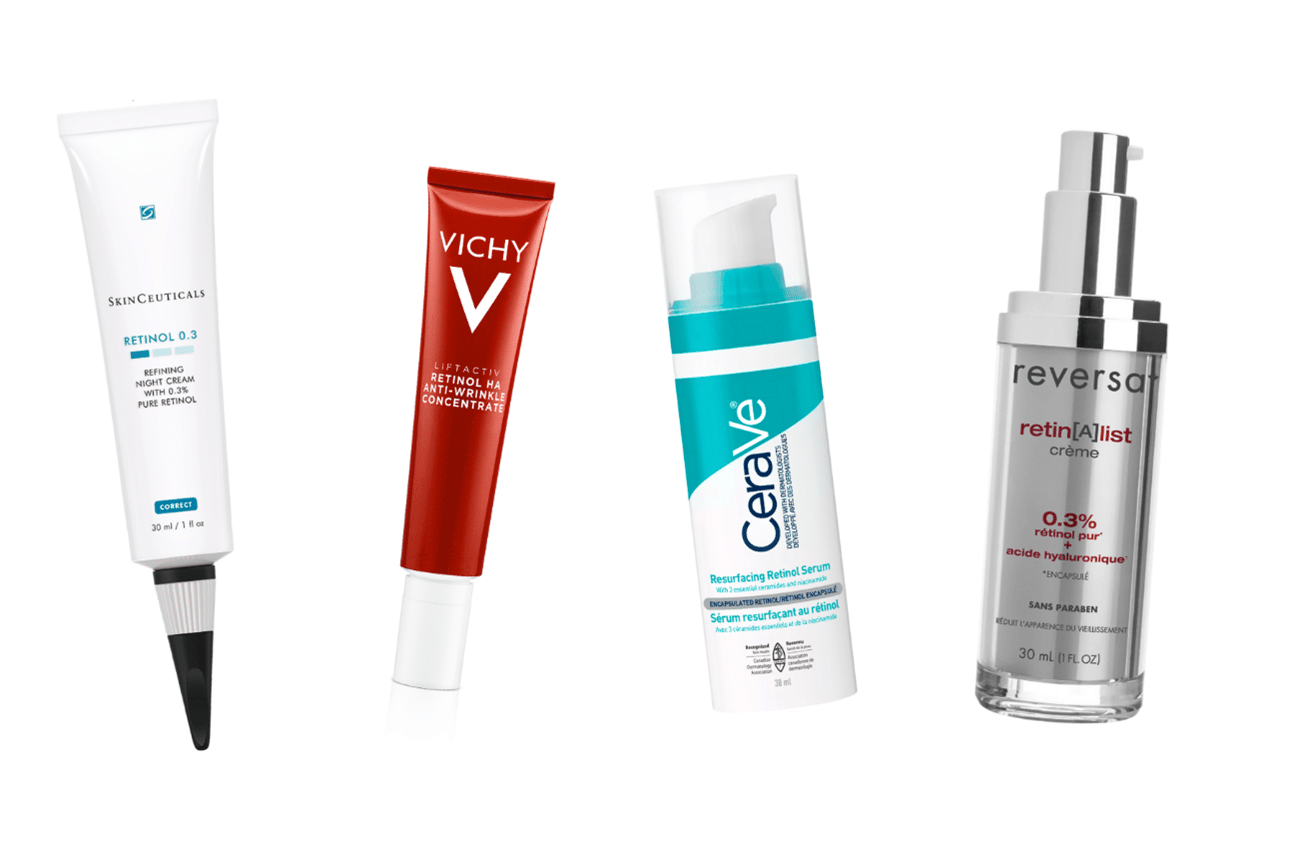 SkinCeuticals: Retinol 0.3 – $82,00 CAD
Vichy: Liftactiv Advanced Concentrate- $52,95 CAD
CeraVe: Resurfacing Retinol Serum – $26,99 CAD
Reversa: Retin[A]list cream – $62,00 CAD
Night 3 and 4: Recovery!
For the 3rd and 4th night, we let the skin rest! We put aside the exfoliating acids and retinols and let our skin regenerate!
However, don't just sit back and let your skin regenerate on it's own! It's time to bring out your favorite ultra-hydrating skin care products! Mask, serum, creamy, we treat ourselves!
And we continue like that!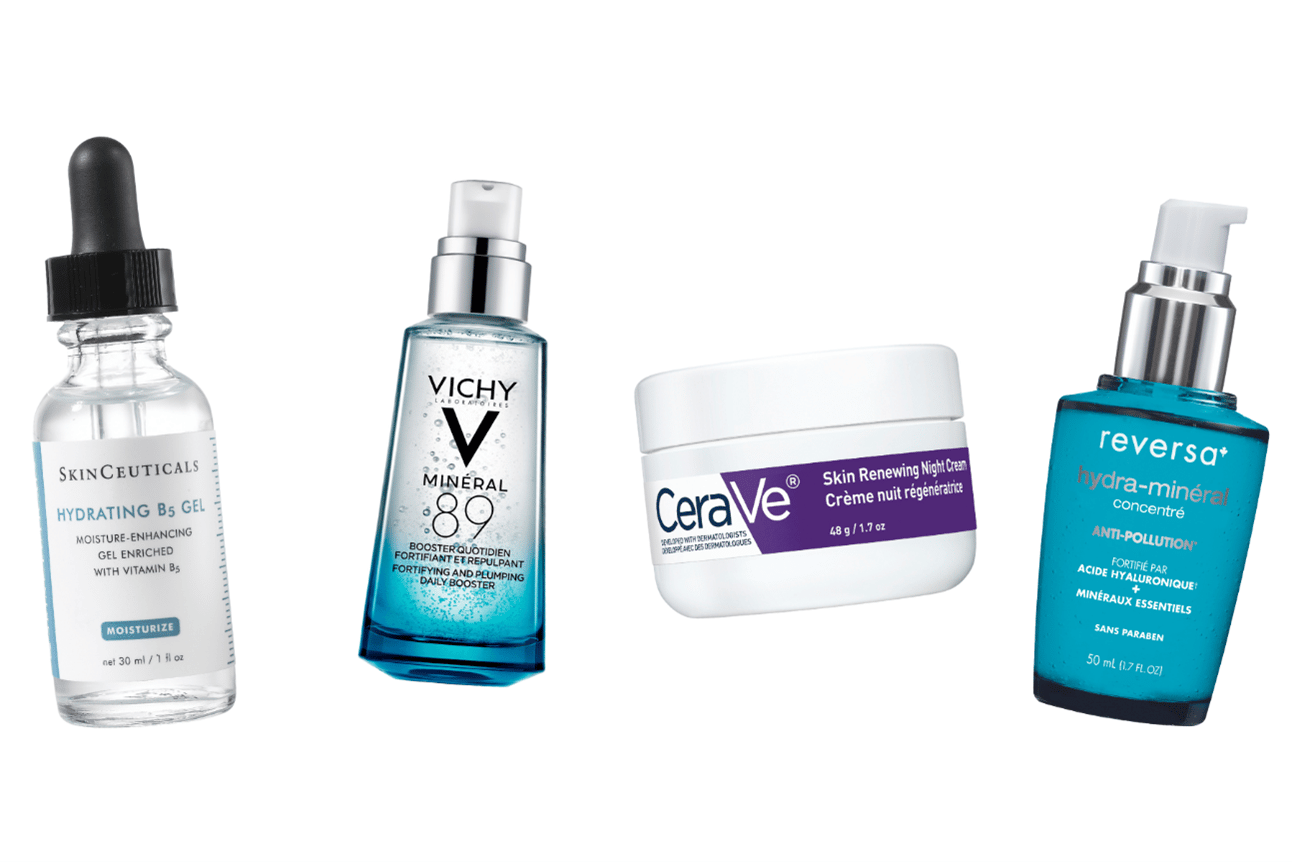 SkinCeuticals: Hydrating B5 Gel – $99,00 CAD
Vichy: Minéral 89 – $43,95 CAD
CeraVe: Skin Renewing Night Cream – $30,99 CAD
Reversa: Hydra-Minéral Concentrate – $42,00 CAD
But then you will say to me, during the day, what do we do? Indeed, it is important to choose the right active ingredients so as not to interfere with the evening's work!
Dr. Bowe recommends using a gentle cleanser, a vitamin C serum, a good moisturizer and of course …. a sunscreen (but don't mention it, you never forget it…right?!)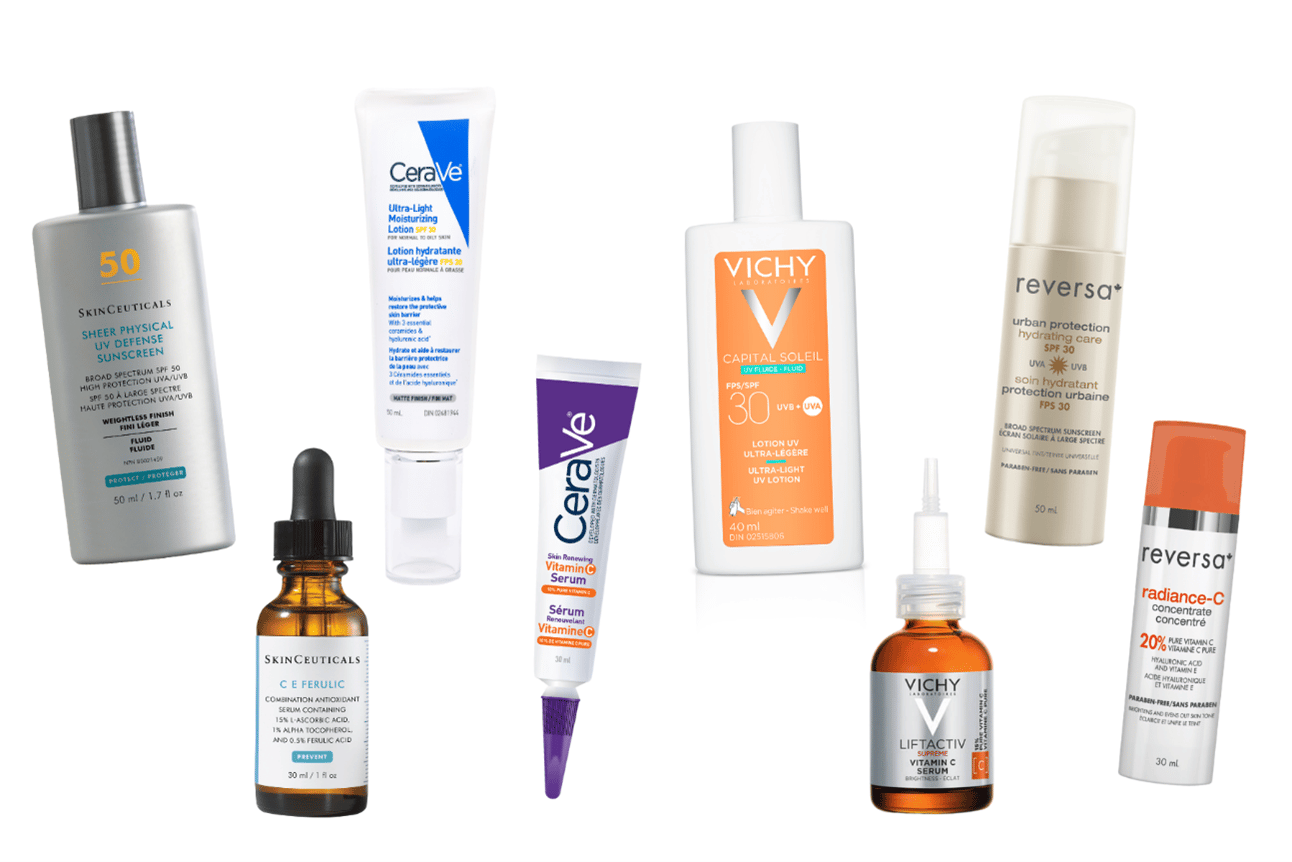 SkinCeuticals: Physical Fusion UV Defense FPS 50 – $50,00 CAD
CeraVe: Ultra-Light Moisturizing Lotion SPF 30 – $20,99 CAD
Vichy: Capital Soleil Ultra-Ligt UV Lotion SPF 60 – $29,95 CAD
Reversa: Soin Hydratant Protection Urbaine FPS 30 – $47,00 CAD
SkinCeuticals: CE Ferulic – $198,00 CAD
CeraVe: Skin Renewing Vitamin C Serum – $23,99 CAD
Vichy: Liftactiv Supreme Vitamin C Serum – $59,95 CAD
Reversa: Radiance-C Concentrate 20% Pure Vitamin C – $60,00 CAD
And there you have it, you're ready to embrace this new beauty trend, you're now fully equipped!
We're curious, have you tried it? And if so, what did you think?