With the winter weather slowly coming in, it feels like the perfect occasion to cozy up at home in warm clothes and cook some comfort food. It sure is how the b nation team has been feeling, so we thought we'd share our go-to products and recipe ideas to warm up those cold days!
Rich and Velvety Morning Smoothie Bowl
We think a good smoothie bowl is the perfect way to light up the progressively darker mornings. Throw in some of your favorite frozen fruits, some crazy toppings (coconut shreds are a delicious add-on), and why not some of the new Riviera oat-based vegan delight! Not only is it made with 100% certified gluten-free oats grown in Canada, but it's also the perfect ingredient to get that thick and velvety texture you want for your smoothie bowl. Here is our recipe if you need some inspiration—it's the perfect smoothie bowl to bring back summer flavours with its sunny color and tropical fruits:
1 cup of frozen peaches, mangoes, and strawberries
½ a cup of peach-flavored Riviera oat-based vegan delight
½ of a banana
Your favorite tropical juice, to adjust the consistency to your liking
Blend, top with coconut shreds, chia seeds and the slices from the other half of the banana and enjoy!
Lunchtime Pick-Me-Up Drink
What better way to lift your spirits up than a homemade Chai latte after your lunch break? We know it can be tough to stay motivated when working from home, but this drink is our favorite to fight the midday blues! Here is Four O' Clock's Chai latte recipe, to follow for guaranteed comfort in a cup!
Infuse 2 bags of Espresso Chai Organic-Fairtrade (a delicious blend of coffee, Indian black tea, cinnamon, and spices) for 3 to 4 minutes in 1/3 cup hot water
Add 2/3 warm frothed milk
Add cinnamon for a little extra spice
Here is a little tip: for extra sweetness, add some maple syrup to your drink!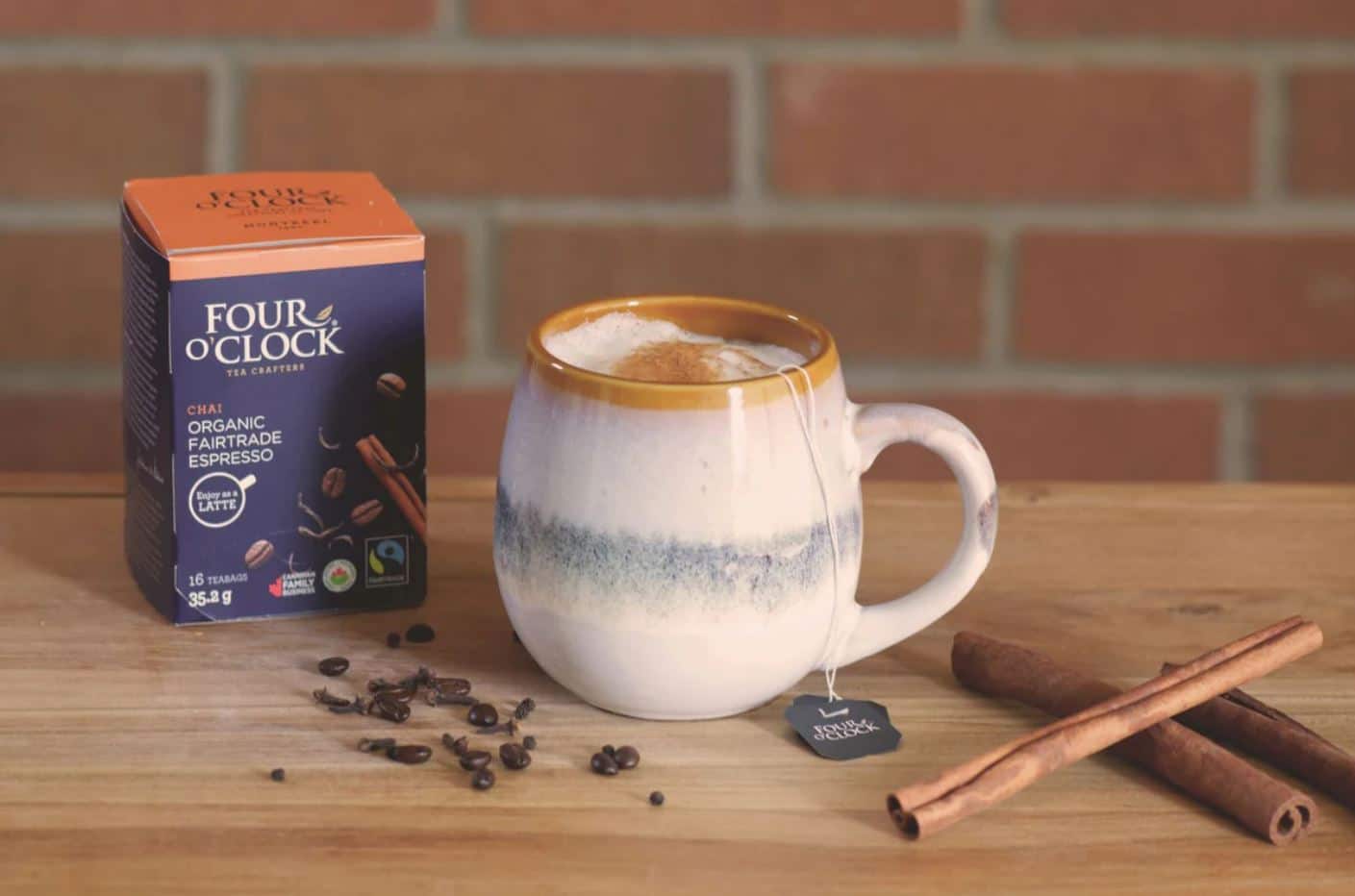 Warm and Flavorful Fall Dinner
We can't think of a better way to end your busy day at home than to cook a hearty and comforting meal. But what would that be without some *spice*? Thankfully, A Spice Affair has got us covered: their spices are eco-conscious, vegan, organic and gluten-free, not to mention the perfect touch to take your recipes to another level! In our opinion, their Indian Coconut Manna Chicken is a must-try. We've linked the recipe here, so you can get a chance to be blown away by all that flavour!
Psst! Hot tip: for a vegan spin on this recipe, use tofu instead of chicken; it'll be just as incredible!
With these three recipes, you'll be more than ready to face the winter blues. Feel free to tag us in your comfort food making so we can discover your go-to recipes!